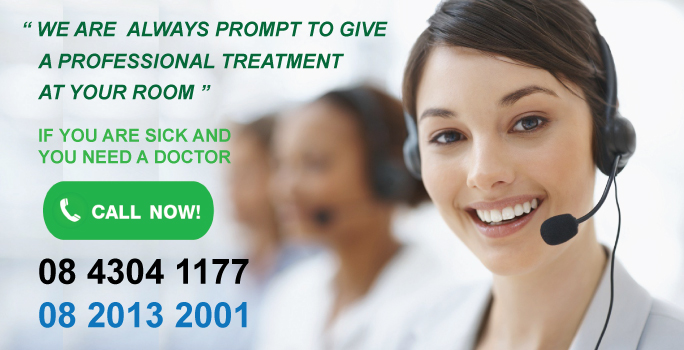 During the covid period, We only service from 9 A.M. to 4 P.M.
you can make an appointment to receive treatment during that time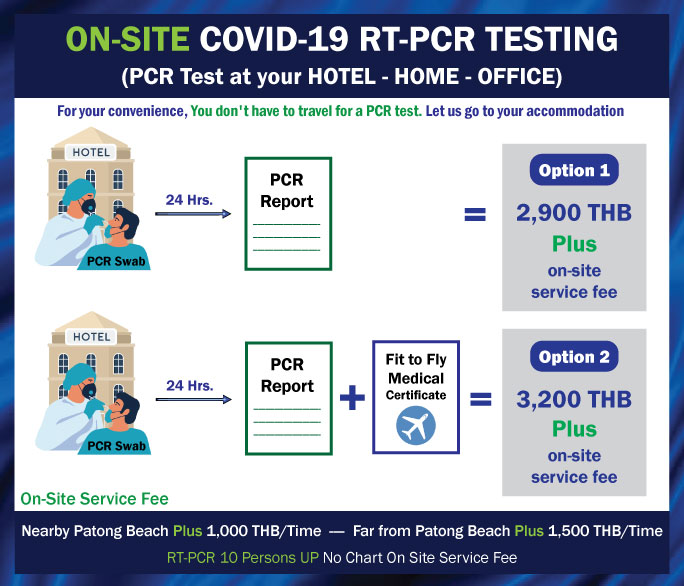 DOCTOR VISIT HOTEL is established to provide hotel call health assistance services. Our premium personalized care is available 24 hours a day. DOCTOR VISIT HOTEL eliminates unnecessary visits to the hospital which is far away from the tourist attractive places. A rapid hotel visit can save hours or even days in starting treatment and the sooner it begins, the sooner you will recover, you stay in comfort, safety and do not need to travel.
You do not need to register as a patient of DOCTOR VISIT HOTEL to use our services, just simply call us on 09 6249 6416 (WhatsApp +669 6249 6416) Our care call center will arrange for an experienced private doctor to visit you at your hotel or anywhere within our service area in around an hour and a half or as making an appointment with DOCTOR.
Patients with insurance for medical care are welcome to use DOCTOR VISIT HOTEL. We already provide medical services for the world's international travel insurance companies and can provide the appropriate medical report to assist you with your claim. The medical documents and bill or payment are taken at the end of the doctor's visit.
As one of the leading hotel doctor service for over 20 years, DOCTOR VISIT HOTEL has developed a specialist service around the unique needs of HOTELS and their guests. Our rapid and efficient hotel visiting doctor service is designed to get an experienced doctor to any hotels. Whilst we aim to respond promptly, we are not an emergency service. In an emergency, you should call to the hospital and ask for an ambulance.
If additional treatment or care is required, we can provide a referral letter for any hospital as patient's requirement.
Alternatively, patients may prefer to arrange an appointment to see a doctor at our THE TOURIST CLINIC 188/15-17 Patong Beach Front Road opposite LOMA PARK, where is our basement.
For more information on our DOCTOR VISIT HOTEL Service, or to arrange a visit, call us on 09 6249 6416 (WhatsApp +669 6249 6416)
Keyword (Tag) : Doctor Patong, Doctor in Patong, Clinic Patong, Clinic in Patong, Hospital Patong, Doctor Phuket,
Doctor in Phuket, Hospital in Patong, Find a Clinic, Find Clinic, Medical Clinic, Medical Clinic in Patong,
Doctor 24 hrs, Doctor 24 hours, Clinic for Tourist, Tourist clinic, The Tourist Clinic, Dr, Dr Clinic, Dr Visit,
Find Doctor, Find a Doctor, Fillers, Breast Filler, Doctor on Call, Doctor on Call Patong, Doctor on Call Phuket,
Doctor Kata, Doctor Karon, Good Doctor, Best Doctor, Good Clinic, Best Clinic, Good Doctor in patong,
Doctor on Call Phuket, Doctor Call, Doctor on Call Thailand, Hotel Call, Diarrhea Phuket, Diarrhed Patong,
Clinic Kata, Clinic Karon, Clinic Chalong, Clinic Kalim, Clinic Kamala, Clinic Surin, Clinic Phuket, Diarrhed,
Doctor Kata, Doctor Karon, Doctor Chalong, Doctor Kalim, Doctor Kamala, Doctor Surin, Doctor Phuket,
Doctor Visit, Hotel Visit, Doctor Visit Hotel, Hotel with Doctor on Call, Find a Doctor Phuket, Hotel Visit,
Bangkok Hospital Phuket, Bangkok International Hospital Phuket, Blood Test Phuket, Patong Inter Clinic,
Patong International Hospital Phuket, Patong International Clinic, Patong International Hospital